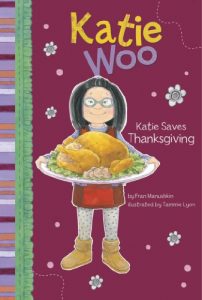 Katie Woo: Katie Saves Thanksgiving
An Illustrated Chapter Book written by Fran Manushkin and Illustrated by Tammie Lyon
25 Pages
Summary:
When the Woo's oven quits working, Katie comes up with a plan to save Thanksgiving.
Possible Lessons / Morals to the Story:
Thanksgiving is about more than the food.  

When things go wrong, you can have a positive attitudes.  

When we serve others we are blessed as well.  

We can come up with solutions to our problems.
Discussion Questions:
What happened to Katie on Thanksgiving?  

How did Katie handle these problems? How did Katie save Thanksgiving?  

What skills did Katie use to solve the problems?

How can you help make Thanksgiving a success? How can you use service to help someone else have a better Thanksgiving?

What is a problem you are facing that you need to solve? How can the skills that Katie used help you through your challenge?

How can you make sure you have a positive attitude when things don't go your way? How could a positive attitude help?
How You Could Use this Resource:
To prepare children for Thanksgiving and talk about what it is about.

To help an anxious child learn that when things don't go as planned we can still have a positive attitude and figure out a solution to our problems.

To talk about problem solving.