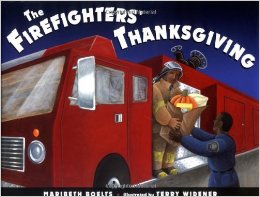 The Firefighters' Thanksgiving
A Picture Book by: Maribeth Boelts
Illustrated by:  Terry Widener
29 Pages
Summary:
Calls to fires, an injured friend, and cooking disasters threaten to keep a group of firefighters from enjoying Thanksgiving dinner.
Possible Lessons / Morals to the Story:  
Firefighters (and other civil servants) work tirelessly,  even through holidays to keep us safe. 

Service is a great way to give thanks this season.

Thinking of others who can't be with their families on Thanksgiving is a great way to express gratitude for what we have.
Discussion Questions:
Why were the firefighters not with their families on Thanksgiving?

What did they spend the night doing?  

What problems did they encounter?

Tell me about the firemen in this story, how do you think they felt?  

How do you think it would feel to have such a busy holiday?

What did the community members do to help?

What would you like someone to do for you if you couldn't be home with family for Thanksgiving?

How can you help someone near you this holiday season?
How You Could Use this Resource:
To help a group/family come up with a holiday service project.

To illustrate how to think of others during holidays.

For another perspective on what people do on Thanksgiving.