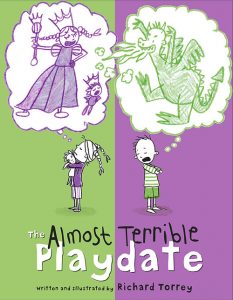 The Almost Terrible Playdate
A Picture Book Written & Illustrated by Richard Torrey
Random House Children's Books 2016
32 Pages
Summary:
A young boy and a young girl have a playdate but they can't agree on anything. They decide to play by themselves but soon realize that is not very fun. They learn to come up with a solution that they are both happy with.
Possible Lessons / Morals to the Story:
Playing with others takes compromise and patience.

We all have great ideas. When we're open to the ideas of others we have access to even more great ideas.

Being with friends is better than getting your way all the time.

Discussion Questions:
What happened in this story?

What types of things did the little girl want to play?

What types of things did the little boy want to play?

What did they do when they couldn't get along?

What was the problem?

Summarize what they did to solve the problem.

What do you think they will play next time?

What are some compromises you make with your friends?

What can you do to make playtime more enjoyable?
How You Could Use this Resource:
To teach children to compromise so everyone gets input on an activity.

To aid in dissolving an argument during playtime.

To prepare a child for a playdate with a new friend.