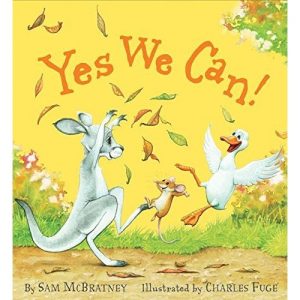 Yes We Can!
A Picture Book by: Sam McBratney
Illustrated by: Charles Fuge
HarperCollins Publishers 2006
24 pages
Summary:
While friends are playing they begin to focus on what each other can't do. No one is happy when they make fun of each other. Mama Kangaroo suggests focusing on what each of them can do instead. That makes everyone happier.
Possible Lessons / Morals to the Story:
When we acknowledge that we all have different abilities and talents, we can be happier.

When others laugh at us we can get back up and try again.


We all have something unique to contribute to relationships.

Someone else's advice can help us change our perspective and see a solution to a problem we couldn't see before.
Discussion Questions:
What were the friends doing in the beginning?

How did their feelings change?

What caused the change?

How were they able to fix the problem?

When you're feeling sad, what can you do to feel happier?

When you have a problem with a friend what can you do?

When you aren't sure what to do who can help you?

What can we say/do to encourage our friends?
How do you feel when you are laughed at?
What are some ways you can be a supportive friend?
How You Could Use This Resource:
To teach children to be considerate of one another as they play.

To comfort a child who had a rough time with friends or was laughed at while playing with friends.
Teaching Tips:
Emphasize that the friends didn't give up and go home mad. They kept playing and worked out their problem until everyone was happy again.